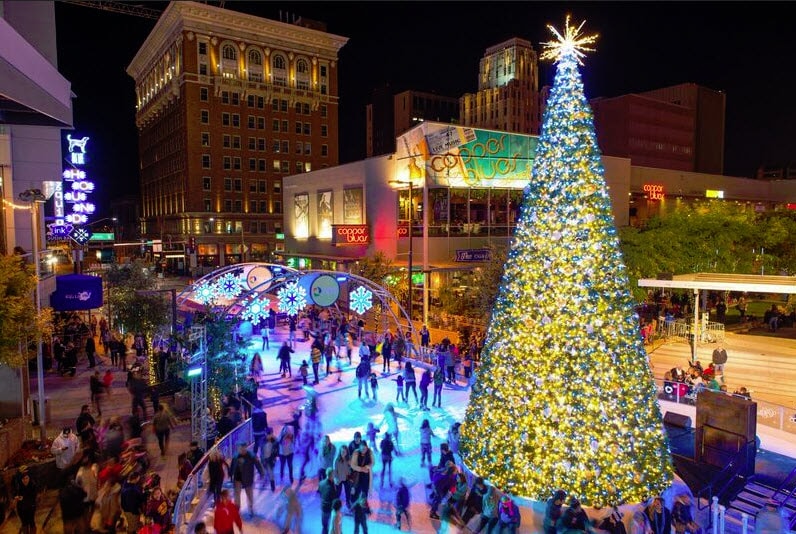 It's beginning to look a lot like Christmas in downtown Phoenix! From Nov. 26 through Jan. 8, CityScape is featuring a real outdoor ice rink surrounded by holiday sights, including a towering Christmas tree decorated with thousands of lights and shimmering bulbs.
This year the ice rink, known as CitySkate, offers a new $25 Express Pass that allows skaters to bypass lines. Also, skating will now be broken into sessions to help reduce long wait times.
General admission tickets are only $15 and must be purchased onsite. Only Express Passes are available for purchase online. In addition, there are $10 discount tickets available for senior citizens, military members, and children 8 and under.
Santa will once again make appearances at CitySkate on several weekends, starting at the event's grand opening on Nov. 26, which will also include live music and other entertainment. Even if you don't go to skate, you can bring your little ones out for a meet and greet with Jolly Old Saint Nicholas, and take selfies by the site's enormous Christmas tree.
For full details about the ice rink and other holiday festivities, visit Phxiceink.com for information.
NEW ICE RINK SESSIONS
Monday - Thursday
5 p.m. - 7:30 p.m.
8 p.m. - 11 p.m.
Friday
11:30 a.m. - 1:30 p.m.
5 p.m. - 7:30 p.m.
8 p.m. - 11 p.m.
Saturday - Sunday
3 p.m. - 5 p.m.
5:30 p.m. - 7:30 p.m.
8 p.m. - 11 p.m.