<67>Subaru has been a trusted vehicle by drivers in the U.S. for 50 years, and now there is another reason to trust the manufacturer even more. Subaru of America was recently the recipient of seven 2019 Top Safety Awards from the Insurance Institute for Highway Safety (IIHS). This marks a high achievement by the manufacturer and puts it in a category that is among the best in the industry for ensuring the safety of drivers and passengers. 67>
The 2019 TOP SAFETY PICK+ award was based on the Ascent, Crosstrek, Impreza (sedan and 5-door) Legacy, Outback, and WRX. The award was also given for those vehicles being equipped with EyeSight Driver Assist Technology and LED Steering Responsive Headlights. The recognition represents more awards than any other brand.
The IIHS was established six decades ago as a non-profit entity for informing motorist of purchasing vehicles that meet high standards of safety. The mission of the IIHS is to reduce motor vehicle crashes, decrease the rate of injuries related to motor vehicle crashes and reduce the level of property damage that occurs during these incidents. Using constant research and analysis, the IIHS is depended upon by insurance companies and auto manufacturers to provide accurate data that involves road design, traffic regulations, and even having input for policy decisions that affect everyone who rides in a vehicle.
In order to be considered for a IIHS 2019 TOP SAFETY PICK+ award, Subaru vehicles needed to receive a "good" rating after the completion of six tests that are conducted at a high rate of speed for front and side-impact crashes, a rollover test, and be evaluated for its seat/head restraint quality, which is designed to protect against neck injuries during a rear-end collision. Additionally, the Subaru had to earn a rating of "advanced" or "superior" when tested for front-end crash prevention, as well as a "good" rating for headlights.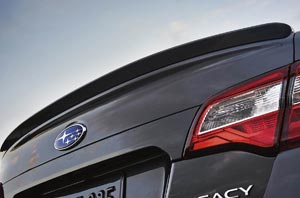 Subaru has met the challenge to be the front-line on providing the best possible protection for drivers and passengers when considering all types of crash scenarios. For Subaru of America to receive seven awards as a Top Safety Pick, it is not an easy achievement to accomplish, and it represents that the manufacturer is setting a high standard for meeting its own expectations for consumers. Each year, Subaru of America sets out to improve upon vehicle safety for consumers and innovate changes that surpass the industry standards. Thomas J. Doll, President and Chief Operating Officer of Subaru of America said, "For the Subaru brand to lead the IIHS TOP SAFETY PICK+ awards with seven winners, reflects our commitment to making safety the top priority in [all] our vehicles." That hasn't gone unnoticed by consumers.
According to recent reports from Subaru of America, there has been a month-to-month yearly growth, which has lasted for 84 consecutive months. The results translate to 615,594 year-to-date sales when last reported in November 2018. That represents a 5.3 percent increase when compared to the same time in 2017. The results also showed that over 40,000 vehicle sales were reported for 57 months consistently.
While those numbers are impressive, the IIHS 2019 TOP SAFETY PICK+ award reflects a commitment by Subaru to go the distance for safety. When it comes to setting a new bar for excellence, Subaru is raising industry expectations and ensuring unprecedented safety to consumers, at the same time.
Interested in finding out more about the IIHS award? Be sure to reach out to the staff at Camelback Subaru. We're committed to providing you with the information needed to make your car-buying decision an informed decision. Please let us know how we can be of assistance!