Each year, consumers ask themselves "what's new?" when looking at the latest releases by their favorite brands. When it comes to Subaru, there's a lot to look forward to in a variety of categories. Safety, comfort, and performance are some of the areas where the latest fleet of 2019 Subaru vehicles excel. So if you're considering a Legacy, Outback, Impreza, Forester, or any other Subaru model, here is a preview of what you can expect to find.
Top-Notch Safety Technologies are Included
Subaru has a reputation for producing safe vehicles. Each year, its competitors try to keep up by adding more standard amenities to their cars. Nevertheless, Subaru remains one step ahead. Best of all, you often have to pay extra for premium safety features. But Subaru believes that safety is not a luxury, it's a necessity. Therefore, its award-winning driver-assist package comes standard on all trim levels of its models.
This package, which is called "EyeSight," includes forward collision warning, adaptive cruise control, automatic emergency braking, and more. While this sophisticated safety package comes standard, you can add on responsive headlights that turn in the direction the car is traveling. When you get LED bulbs for the lights too, your visibility becomes even better.
Premium Comfort Without Compromises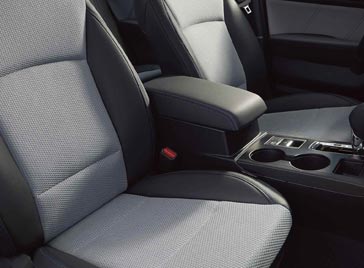 Any Subaru will give you a generous package when it comes to safety. But you'll also get a comfortable and quite spacious interior. Subaru vehicles are known for offering passengers plenty of legroom and headroom. But they also have exceptionally spacious trunks that provide ample cargo capacity. The 2019 Subaru Outback, for instance, has an impressive 108 cubic feet of storage space with the seats folded down. Its integrated roof rails provide even more capacity for hauling bikes, boats, and other gear around. On the inside, your Subaru will make even the longest drives comfortable and relaxing with power-adjustable seats (which are one of the three most requested conveniences), heated seats, and a sunroof.
You'll also get premium climate control with the brand's advanced air filtration system and a high-tech infotainment system that packs in the latest technology with Apple CarPlay, Android Auto, Pandora, iHeart Radio, and more. Spend a little more and you'll get features like voice-control assistance and navigation.
A World-Class Drivetrain
Another area where Subaru stands out is drivetrain and performance. Subaru cars are equipped with an advanced all-wheel-drive system that provides premium traction and control. This all-wheel-drive system, which is called symmetrical all-wheel drive, delivers power to the wheels when they need more traction and grip. This system is ideal for traveling safely on wet, snowy, and slippery roads. But it also comes in handy if you're planning to take your Subaru exploring on dirt roads. The all-wheel-drive system is paired with Subaru's own Boxer engine to a winning combination of power and fuel economy. Depending on the trim level you choose, you'll get either a manual transmission a smooth-shifting automatic transmission with continuously variable technology.
Today's vehicles are an exceptionally well-equipped and sophisticated bunch. You have many good options to choose from, especially if you're considering a Subaru. Offering some of the world's most tech-savvy, comfortable, and safe cars, Subaru certainly sets itself apart from the pack. Contact us today to learn more about your favorite model or to arrange a test drive.