The 2021 Subaru Love Promise Customer and Community Commitment Award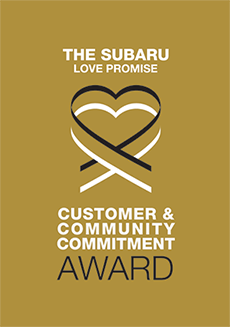 We've been nationally recognized for our dedication to our customers, our community, and the Subaru Love Promise.
We're honored to receive the 2021 Subaru Love Promise Customer and Community Commitment Award. This award nationally recognizes elite Subaru retailers who provide an exceptional customer experience at every interaction with Subaru. These retailers have also demonstrated an outstanding commitment to supporting passions and causes in their local communities in important areas such as the environment, community, health, education, and pets.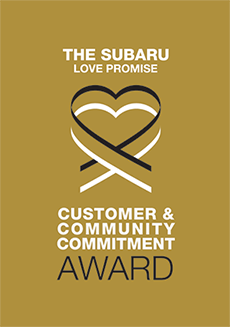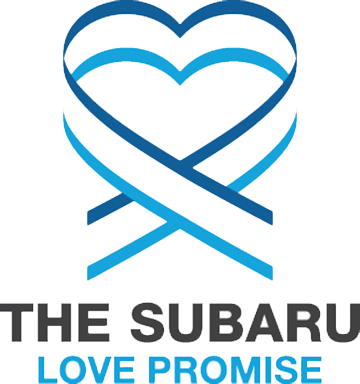 What is the Subaru Love Promise?
Subaru and our retailers believe in making the world a better place and the Subaru Love Promise is our vision of respecting all people. This is our commitment to show love and respect to our customers and to work to make a positive impact in the world.
How is Camelback Subaru dedicated locally to the Love Promise?
Our Love Promise can be seen in various partnerships with local charities and non-profits. We're grateful for the opportunity, not only to be a part of our community, but to serve it as well.
Florence Crittenton Services of Arizona
Phoenix Childrens Hospital
Phoenix Childrens Hospital, Leukemia & Lymphoma Society
Love Promise Stories from Camelback Subaru
Subaru and Camelback Subaru believe in making a positive impact on the communities in which we live and work. We uphold that belief through our Love Promise Community Commitment. Every month, we select inspiring stories from customers and partners from around our area who strive to support our collective commitment and feature them here
Thank you Camelback Subaru team and customers! - Breanna W
The Leukemia & Lymphoma Society (LLS) Arizona has partnered with Camelback Subaru as their hometown charity since 2015. The retailer has gifted LLS more than $100,000 assisting hundreds of local pediatric cancer patients and their families get to their life-saving treatments. Despite the challenges of 2020 and the pandemic, Camelback Subaru continued to steadily support blood cancer patients when they needed it the most. You are saving lives and helping with the financial burden of care. Thank you Camelback Subaru for your continued, outstanding support of our community.
---
Phoenix Subaru Retailers Pack Emergency Food Boxes - United Food Bank A
The employees of all the local Phoenix Subaru retailers volunteered at the United Food Bank to pack emergency food bags. It was a fun and very productive event! At the end of the shift, they packed enough to feed 770 families! The Phoenix Subaru retailers are proud to donate their time and support to such a great cause. This is just one of the ways the Subaru retailers in Arizona are giving back and being more than just car retailers! Pictured are our proud volunteers from Camelback Subaru as well as the entire group. Thank you United Food Bank for all the great work you do!
---
Camelback Subaru Employees Love to Help - St Mary's F
The Phoenix Metro Subaru Retailers and Subaru of America employees all volunteered at the St. Mary's Food bank to pack Emergency Food Boxes. It was a fun but hard-working session where we all packed over 31 pallets worth of food for those in need. Peter and Ariel worked hard keeping the work area clear of boxes and trash the whole time. Thank you, Peter and Ariel, for volunteering your time and hard work to help the people of Phoenix! This is what Makes Camelback Subaru more than just a car retailer!
---
CAMELBACK SUBARU: DRIVING THE JOY OF GIVING BACK - Perrine T
It was a chance encounter that led Joe Esposito III, Managing Partner of Camelback Subaru to become a major supporter of Phoenix Children's Hospital. In 2015, Joe and his colleagues were touring the Center for Cancer and Blood Disorders at Phoenix Children's during Subaru's annual Share the Love campaign. They were handing out blankets to kids, and came across a little boy receiving his 7th bone marrow transplant procedure. "We gave the little guy a stuffed gorilla, and he took a liking to us." Joe and his group later spotted him in the Hospital's parking garage, where they discovered the young boy and his guardian getting into a hot car."I stopped to talk with him for a moment and noticed it was more than 100 degrees outside and they didn't have AC." They wanted to lend a hand, and the gentleman shared his story with Joe. "He had become responsible for the young boy, and they were out of money. He had no real resources." Joe was touched and vowed to help. Theirs was the first of several families they "adopted," and continued to support. It was also the moment he decided to invest the lion's share of his company's philanthropic efforts into championing one cause – childhood cancer."He's a trooper, and just earned his 3-year coin," says Joe with pride. That "life-changing" moment inspired not only his level of support, but the trajectory of his company's culture along with it. Now every year during September's Step Up. Stop Cancer. campaign during Childhood Cancer Awareness Month, the company serves as a Title Sponsor, committing $50,000 to Phoenix Children's annually to the effort. "I always believed those who were fortunate had a responsibility to give back," he explains. "But we decided to go all-in and really make a difference in one area." When word spread around the dealerships, Joe discovered that many of their employees' families' children were treated at Phoenix Children's at one time. "Our employees began to see that our business wasn't just about numbers," he said. "It became a lot more personal," Joe says."Our Christmas parties used to be focused on us. We gave out lavish gifts like big-screen TVs – but not anymore," he shares. Now the spirit of the holidays is focused on providing Christmas for kids in need. "Even the gifts we raffle off were donated back to organizations including Phoenix Children's. It's taken on a life of its own and bound our employees together. There is just an amazing energy in that room at those parties now. We also invite the families we help to join us – it's like a fraternity."And while they were busy giving, something else happened. Joe and his partners received a gift, too. THE BUSINESS OF GIVING PAYS OFF Joe says he knew instinctively that giving was always the right thing to do — but he didn't anticipate that the spirit of generosity would also be returned many times over. Since becoming a Title Sponsor for Step Up. Stop Cancer., the brands represented at his dealerships have been top performers in the market. And that wasn't all. "We saw employee satisfaction go up, and turn over go down," he said. "Our employees feel like this is a good place to work, where people really care," Joe says that spirit of generosity has revealed itself in many ways. They have had a few employees whose children have been treated at Phoenix Children's and measures were taken to ensure these employees could be there to support their children and families. Joe is so passionate about the power of philanthropy that he's inspired others in the industry to donate, also. "I wish other business owners could realize the benefits of giving back," he says. "But we've found our loyal customers return because they appreciate what we do. It's heartwarming – like one big family."
---
Camelback Subaru Loves the Earth - Stewart V
March 05, 2020 Ms. Kay Magnus Camelback Subaru 1521 E Camelback Rd Phoenix, AZ 85014 Dear Ms. Magnus: Please accept this letter as our sincere appreciation to you personally and to Subaru for your commitments to sustainability and the community. Since Dorothy and Sandra first reached out to Camelback Subaru in 2019 regarding Subaru's coffee packet recycling program, you have helped the Gannett Fleming Phoenix office recycle approximately 720 pounds of used coffee packets. We look forward to continuing our participation in the program and anticipate recycling an additional 960 pounds of used coffee packets in 2020 thanks to you, Subaru and the Terracycle program. When we began installing new coffee machines throughout our offices in 2017, it became evident we needed a more responsible disposal alternatives, which lead us to Subaru. After carefully researching available programs, our Phoenix office was the first office to participate in the program through Camelback Subaru, and because of its success, we hope to expand our participation in Subaru's program to other offices across the country. Sustainability is deeply rooted in the culture of Gannett Fleming. Through our corporate sustainability initiatives and programs, we actively identify opportunities to improve the environment and support the communities in which we live and work. You can learn more about our Corporate Sustainability Program from our website, http://gannettfleming.com/AboutUs/sustainability, and our most recent Corporate Sustainability Report, http://eresources.gfnet.com/2018CSR/index.html. Please let me know if there is anything we can do to help promote your program and feel free to reach out to me personally at 602.734.4882 or svaghti@gfnet.com. Sincerely, GANNETT FLEMING, INC. Stewart S. Vaghti, P.E., ENV SP Corporate Sustainability Officer
---
Camelback Subaru Assists Pediatric Patients in AZ - Naomi M
The Leukemia & Lymphoma Society(LLS)-AZ Chapter has partnered with Camelback Subaru as their hometown charity since 2017. Hundreds of cancer pediatric patients and their families have benefitted as a result. LLS thanks Camelback Subaru for their commitment to our organization and the impact made on the community. We look forward to our continued partnership as we FIGHT and CONQUER blood cancer! THANK YOU CAMELBACK SUBARU for all you do!
---
Subaru Loves Learning- Central Books - Michele T
It is the little things that teachers appreciate! Little things like books for students who finish early or curious students that need to get their questions answered in science class or that perfect extra resource that matches our science curriculum. We look forward every year to the new science books donated from our local Camelback Subaru. The variety of books to choose from means that multiple classes utilizes these different genera from science fiction, National Geographic, to beginner level science books. We also ordered class sets, for whole group instruction when it fits into our diverse disciplines of science. There is something for everyone! These donated books have made their way into multiple classrooms, not just science classes, to help build and refine literacy skills at every grade and reading level. For example, during daily tutoring time, students can read about different science topics for 40 minutes. Our school library also received a few copies so any student can check out these books to take home and read over the weekend.We cannot educate students on our own. It takes a community! We are proud to have Camelback Subaru as a business partner. Together, we are increasing literacy one student at a time.
---
Camelback Has Your Back- True Story! - Naomi M
This year we celebrated our four year partnership with Camelback Subaru. Every year their team unloads blanket after blanket from their Subaru in the 110 degree heat all for the patients at The Center for Cancer and Blood Disorders at Phoenix Children's Hospital. Local volunteer and proud Subaru owner (she purchased her Subaru from Camelback just after the first ever delivery four years ago), Cookie joined the team as well. This year proved to be something even more near and dear to their hearts as one of their own had a daughter hospitalized at the center just days prior to their blanket delivery. "We were saddened with the news of our employee's daughter's diagnosis. The family has the support of our staff and is lucky to have the doctors and staff at PCH & LLS to provide top notch treatment, resources, and information. It is great to have this withstanding partnership and we are fighting along with them all the way," said Denise Farr, Camelback Subaru Controller. Over the years Camelback Subaru has made a remarkable stamp in the community. Thanks to our growing partnership, the retailer has gifted the AZ-LLS chapter more than $100,000 and directly assisted approximately 200 patients and their families. They are making an impact everyday with each and every patient through their journey one step at a time. We truly have made a friend with Camelback Subaru and as their saying goes, "Camelback has your back," could not be any more true
---
LLS and Camelback Subaru Partner Once Again - Naomi M
Camelback Subaru has been part of our family for three years. During this time, the retailer has developed and maintained partnerships with not only our healthcare partner, Phoenix Children's Hospital, but also the patients and families we serve. From assisting our patients with transportation to helping our patients with their school work (yes you read this correct), Camelback Subaru truly understands our patients and our mission.As blankets were distributed by Camelback Subaru team members, many of the patients were on a first name basis. When we speak about partnership, this particular retailer took the meaning to heart. In addition, an island princess joined the group to assist in delivering the blankets to patients. The patients enjoyed meeting the princess and posed for photos and received autographs. As always it was such an endearing experience to be part of and thank you Camelback Subaru for your contribution to LLS and our mission!
---
Camelback Subaru and LLS Bring Joy & Hope to PCH - Naomi M
The Leukemia & Lymphoma Society (LLS) -Arizona Chapter was honored to once again partner with Camelback Subaru in Phoenix, Arizona in June during The Subaru Loves to Care Campaign. Messages of hope, love, and warmth to patients were delivered to patients receiving treatment at The Center for Cancer & Blood Disorders at Phoenix Children's Hospital (PCH). As the tour ended, the representative from Subaru leadership team noticed someone in particular, and it was a child that the retailer had gone above and beyond to assist after last year's blanket delivery. Camelback Subaru kept in touch and worked with PCH and LLS to treat the family to a Phoenix Sun's game once the child was given the approval by his doctor (since he is still undergoing treatment for leukemia). They also assisted with a vehicle to ensure he could tend to his treatments and therapies. It was such a humbling experience to see the child's sheer joy as he ran up to Camelback Subaru's representative and give her a hug. We cannot thank Camelback Subaru enough for everything they have done to support LLS and our mission!
---
Camelback Subaru Hometown Charity: - Denise F
Camelback Subaru has selected the Arizona Chapter of the Leukemia & Lymphoma Society as our Hometown Charity. We partnered with the LLS to deliver Subaru blankets to the Phoenix Children's Hospital in 2016 and the partnership is continuing throughout 2017. The funds will be directed to their travel assistance program to ensure that patients suffering from various blood disorders get the treatment they need to help fight their individual ailments. The support of the Camelback Subaru team as well as the support of the community has been instrumental in the success of this program!
---
Camelback Subaru & LLS Visit PCH - Naomi M
The 107 temperature didn't stop LLS and Camelback Subaru from delivering over 100 blankets for children fighting cancer at Phoenix Children's Hospital. Representatives from both organizations delivered these cozy boxes with messages of hope to patients ages 0-18. The personal one on one delivery made it most special to interact with not only the families of the patients, but the patients themselves! Child Life Specialist, Kim Froehle graciously gave a tour of the facility as patients being treated were overjoyed when receiving their gifts. It was all about creating memories and hope for everyone involved!
---
Jake's Story - Joseph E
Camelback Subaru, Leukemia & Lymphoma Society & Phoenix Children's Hospital. Jake's Story Partnerships like Subaru are helping those fighting cancer like Jake. When Jake broke his leg with no obvious cause and refused to walk even after the bone healed, a diligent pediatrician realized something more was wrong. At only 22 months old, Jake was diagnosed with leukemia. Three and a half years of treatment later, Jake's cancer was in remission. Now an energetic, happy survivor, Jake plays video games, loves ninjas and makes friends easily. During Subaru Loves to Care month this June, Camelback Subaru is participating with The Leukemia & Lymphoma Society to provide blankets and messages of hope to patients undergoing cancer treatment at The Phoenix Children's Hospital Center for Cancer and Blood Disorders. The Center for Cancer and Blood Disorders at Phoenix Children's Hospital is the largest pediatric program of its kind in Arizona, providing complete care for children diagnosed with malignancies and hematologic diseases from a team of true experts. The Leukemia & Lymphoma Society's Arizona Chapter serves residents who have been touched by one of the blood cancers: leukemia, lymphoma and myeloma. Our employees and customers have written messages of hope to share with the patients and families at the hospital, these messages will be delivered alongside 130 blankets to provide comfort and warmth as the children continue their fight against cancer.
---
Love the Earth with Camelback Subaru - Letitia H
It's all about the butterflies at Camelback Subaru! Did you know that the Monarch butterfly population has decreased as much as 90% in recent years as a result of numerous threats, particularly loss of habitat due to agricultural practices, development and cropland conversion? The National Wildlife Federation's Butterfly Heroes program is designed to help increase their population through the planting and building of milkweed habitats that butterflies need to survive. Butterflies, bees, hummingbirds and other pollinators are not only amazing creatures but play an important role in providing us food as they are responsible for 1 of 3 bites on an average dinner plate! Camelback Subaru and the Subaru Loves the Earth is working to help increase monarch butterfly populations by planting and building milkweed habitats that butterflies need to survive at our stores! With Monarchs currently migrating north through the United States on their way to their summer homes right now, it's essential for their survival to find plenty of milkweed along the way. Butterfly gardens are a great way to provide sustainable habitats in small places. We currently have one on display at our dealership which will be donated to Desert Shadows Middle School who will continue to tend and grow it for years to come. We invite you to become a butterfly hero too! Just stop by our dealership and pick up a free packet of milkweed seeds while they last to create your own butterfly garden at home.
---
Making a Difference for Phoenix Children - Letitia H
In 2015 Crisis Nursery and Child Crisis Center here in Phoenix merged together their 70-year long legacy organizations to form Child Crisis Arizona. Serving thousands of Arizona's most vulnerable and neglected children and families, each year they provide emergency children's shelter care and family-centered education, foster and adopted services. Camelback Subaru has long been a supporter of Crisis Nursery and we're proud to be able to continue that with Child Crisis Arizona. This year we were honored to be able to present a check for $5,272 as part of Subaru's annual Share the Love event because of the generous donations of our customers who helped us make a difference in the lives of children right in our own backyard. Thank you Phoenix for your generous hearts and for helping us make this happen!
---
Butterfly Heroes Program - Camelback Subaru - Camelback S
One of the greatest natural phenomena in the insect world, is the migration of the Monarch butterflies. During the winter months, monarch butterflies in Mexico begin to embark on a journey headed north to the United States in early spring. Shortly after leaving Mexico, pairs of monarch's will mate. As they reach the southern United States, females will look for available milkweed plants to lay eggs. The monarchs have a truly amazing migration, because these butterflies know the correct direction to migrate even though they have never made the journey before. They follow an internal "compass" that points them in the right direction each spring and fall. Here's where Camelback Subaru of Phoenix supports our communities to pledge to help. We have partnered with the National Wildlife Federation to help these wonderful creatures combat the rapidly declining monarch population in the recent years. For the month of April as part of the Subaru Loves the Earth initiative, Camelback Subaru has a butterfly habitat planter on-site. Come by Camelback Subaru during the month of April and check out the milkweed planter. You can also take home milkweed packets of your own to create your own butterfly garden at home.
---
Love the Earth - Joseph E
Camelback Subaru has partnered with All Green Electronics Recycling, and industry leading waste company to collect electronic waste during our "Subaru Loves the Earth Event". Now through April 30th, please bring your unwanted computers, monitors, printers, cell phones, and any other electronic items to Camelback Subaru for recycling.
---
Sharing the Love with Crisis Nursery - Julie E
This past April, Camelback Subaru was incredibly proud to present a check for $5,224 to Crisis Nursery, the Valley's longest running children's shelter and one of the most venerated nonprofit organizations in the state. This donation was earned through Subaru's annual Share the Love event, where shoppers just like yourself got to designate a $250 donation to one of six charities after leasing or purchasing a new Subaru at our dealership. "Thank you to all of the customers who elected to make a donation to such an important Phoenix charity. Crisis Nursery does so much to protect our local children against abuse and neglect. It was a privilege to contribute to their cause," said Joe Esposito, Camelback Subaru General Manager.
---
Love the Earth - Joseph E
Camelback Subaru has partnered with All Green Electronics Recycling, and industry leading waste company to collect electronic waste during our "Subaru Loves the Earth Event". Now through April 30th, please bring your unwanted computers, monitors, printers, cell phones, and any other electronic items to Camelback Subaru for recycling.
---
Camelback Subaru Proudly Sponsored the 2014 Phoenix Rainbows Festival - Nick N
Camelback Subaru was excited be part of the 2014 Phoenix Rainbows Festival, as a Supporting sponsor. We were part of this very exciting weekend in the LGBTQ community celebrating the victory of the right for Same Sex couples to marry in Arizona! It was a very exciting weekend in Phoenix with an estimated 30,000 people in attendance. Camelback Subaru was there, with sales and administrative staff supporting the weekend's events with a booth sharing information on the new Subaru line of vehicles and promoting the Subaru motto of Share The Love.
---