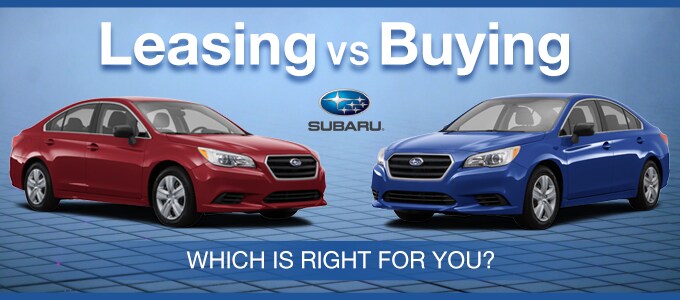 If you're looking for a new Subaru in the Phoenix area, Camelback Subaru is your one-stop shop for great customer service and new and used car deals. Before you get here though, you may ask yourself whether you should be buying a new Subaru or leasing one. While our sales professionals are happy to help you answer this question on-site, here are the answers to some of the questions regarding leasing that we most frequently receive.

Leasing a new Subaru has several advantages for the prospective Subaru driver. When you sign a lease on one of our new Subaru models, you commit to pay manageable monthly payments for a short term, usually 24 or 36 months depending on the specific car, payments, and special offers. This short term agreement lets you explore the benefits of a new vehicle without committing to the full cost. At the end of the term, you can decide to pay the remaining cost of the car after the lease payments to purchase the vehicle, extend the lease, or lease another brand new Subaru!
So...what is the difference?
There a few major differences between leasing and buying a vehicle. The long term commitment of purchasing a vehicle is not for everyone--that's one reason why we'd suggest leasing. Leasing may not give you the power of ownership, but it does help you steer clear of the pitfalls of negative equity. Leasing a vehicle from Camelback Subaru also ensures that you'll have the full support of our sales staff and service department, especially since your new Subaru will be under factory warranty for the life of the lease.
Leasing
If you are wondering what the advantages are to leasing your next vehicle, consider several factors that may help you choose the best option for you.  Lower monthly payments and less money down can make leasing seem like a great deal. The truth is that leasing offers a lot of convenience, but only if you are willing to abide by the restrictions, which include mileage limits, diligent maintenance, care of the vehicle, and ,in some cases, penalties for early termination.

Leasing also may give you the opportunity to drive a better vehicle for less money overall.  Leases vehicles are also under factory warranty which means lower repair costs over time.

With leasing there are no trade-in hassles to deal with and you pay less on sales tax.  You are a good candidate for leasing if you prefer to have a new car every few years, put limited miles on your car and/or can write off your car lease as a business expense.
Buying
Before considering the purchase of a new car, it is wise to establish the amount you are willing to spend, or to calculate the monthly loan payment. Don't forget that after negotiating the final price of the car, you will need to allow some extra cash to cover tax, title, registration and documentation fees.

Next, arrange your financing. You may choose to obtain a loan with the dealership or go with the manufacturer's financing. There are many options, including online financing or pre-approval of a loan from your bank or credit union.
What is important to you?
Lease - If you enjoy driving a new car every two or three years, want lower monthly payments, like having a car that has the latest safety features and is always under warranty, don't like trading and drive an average number of miles, then leasing might be the way to go.

Buy - If you don't mind higher payments at first, like holding on to your cars and prefer to build up some trade-in resale value (equity), enjoy the idea of having ownership of your car, like paying off your loan and being payment-free for a while, then buying is a good option.

Remember, whether you lease or buy, or take over an existing loan, your current credit score can make the difference between a good deal or a bad deal, or no deal at all. Whichever option you choose, Camelback Subaru is here to help!