Meet the 2019 Subaru Crosstrek
It's an exciting time for Subaru, as they release their first plug-in Crosstrek hybrid vehicle in 2019, and we're just as excited as you are about its capabilities. SUV crossovers aren't anything out of the ordinary, but plug-in hybrid crossovers are a relatively recent innovation, meant to be welcomed with open arms and a bit of skepticism at first. If you're skeptical about the Crosstrek being able to keep up with other vehicles out there, we'd like to put your fears to rest. You're going to adore everything it has to offer and absolutely love the towing capabilities the vehicle has.
What are the 2019 Subaru Crosstrek Towing Capabilities?
Even if you're buying a hybrid and accepting the trade-offs that sometimes come with them, as well as the newness of the technology, you still want to make sure that you're getting a fully capable hybrid SUV. We've got good news about towing. You're looking at a maximum towing capacity of 1,500 pounds, and that's more than enough to make it competitive among other hybrid crossovers.
Its towing capacity owes a lot to its innovative BOXER engine. It features 152 horsepower and symmetrical all-wheel drive for an innovative power that's going to feel cleaner and more responsible. And it doesn't hurt that the vehicle just plain out looks great and has the lowest cost-to-own in a 5 year period than any other vehicle in its class. It's not just easy to own because it's a great crossover SUV, but it's financially easy to own as well, and that's a perk that doesn't hurt.
Other features that go along with ample towing capacity include:
Gorgeous exterior colors like Cool Gray Khaki, Sunshine Orange, and Venetian Red Pearl for a distinctive glow
18-inch wheels for just the right look
EyeSight® Driver Assist Technology
Rear-Vision Camera and Reverse Automatic Braking to keep you safe on the road at all times
Innovative acoustic windshield for a quiet, cozy cabin that's in a world all to itself
2.0i Limited features perforated leather-trimmed upholstery for a stunning interior appearance
High-strength steel body structure for a sturdy and very safe ride
Did we mention that it can tow up to 1,500 pounds? More than enough for most folks who might aspire to own one of these?
As you can see, the vehicle has much more to offer than just towing capacity. You're going to get some of today's most innovative safety features, a remarkable BOXER engine that's unique to Subaru vehicles, and the honor of owning the first Subaru plug-in hybrid vehicle. It's a whole new era for the auto manufacturer and a whole new world of adventure for you. As they say, it's going to be a long, interesting ride, and we wouldn't want it any other way!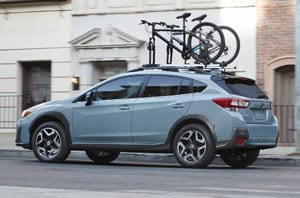 Learn More About The Crosstrek Hybrid Today
The Crosstrek is going to be one of 2019's most innovative and interesting releases. We invite you to contact us today to learn more about what the Crosstrek can add to your life when you drive it off the lot. We mentioned that it's surprisingly easy to afford to own this one, and that's very impressive given its advanced safety features and the amount of power that they managed to pack into a hybrid crossover. This one is not light on power or towing capacity! If you're interested in learning more, contact us with your questions, give us a call, or stop by our lot today!