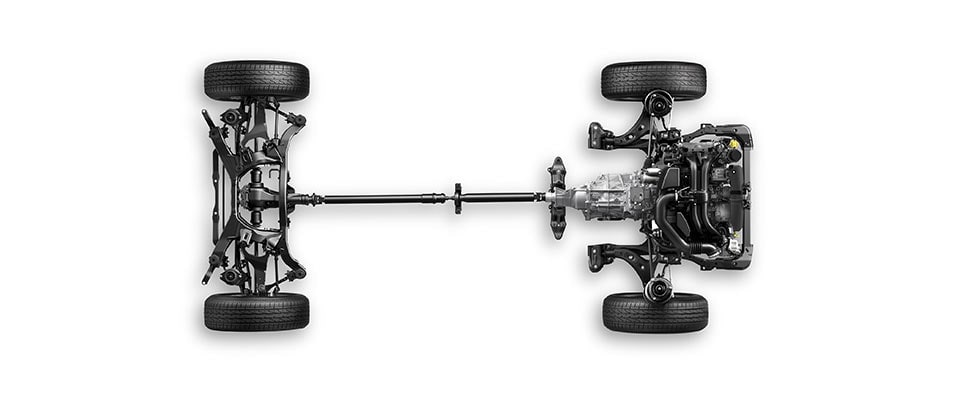 Benefits of All-Wheel Drive
All-wheel drive was one of the most significant innovations in the automotive world when it first came out. It allowed your drivetrain to deliver power to all four wheels (and still does). Subaru wasn't content to go with the old "power to the right wheel" philosophy, though. They wanted an even better all-wheel-drive system, one that was optimally designed in every way to give you divinely inspired traction and balance around your vehicle.
How Does Subaru AWD Work?
Subaru's patented brand of All-wheel drive is called Symmetrical All-Wheel Drive, and no other automaker in the world serves up this kind of AWD. To get maximum traction in any road condition - including dangerous bad weather conditions - you need the appropriate amount of balance and power to your wheels. Subaru accomplishes this with Symmetrical AWD technology, and it nets you maximum traction even on the slipperiest of roads.
A balanced design gives you more stability and control
It works on conjunction with Subaru's brake-force distribution system and safety system to give you maximum traction
Acceleration is enhanced as well, even if it's slick outside
The engine is mounted in line with the drivetrain for a perfect transfer of power
As you can see, Subaru's more advanced all-wheel-drive system is blazing a new trail for the automaker on this count. You'll never have to worry about bad weather conditions when you're in a Subaru!
Many people erroneously believe that you only need AWD if you live in an area where rain and snow are common. That's not true at all. Having AWD on your vehicle can save your life in any adverse driving condition, even rough and rugged curves.
Learn More About Symmetrical AWD Today
Symmetrical AWD is winning awards and blazing trails, but you are the person who's going to benefit from that award-winning technology. When you grab vehicles like the Forester, Legacy, Crosstrek, and Impreza, you get standard Symmetrical AWD. That's right, and safety isn't optional on a Subaru vehicle. It's standard.
If you're intrigued like we are by SAWD, please give us a call today or stop by to drive a Subaru AWD equipped vehicle. You'll immediately see the difference in having this life-saving traction system equipped on your vehicle in all weather conditions. Whether it's rainy or sunny, your perfect balance and power distribution is always active on your new Subaru vehicle.