If you haven't had your brakes looked at for a while, here are several symptoms that you can feel and listen for to determine if your car is in need of brake service in Phoenix, AZ.
I have to hit my brake pedal to the floor
There could be several reasons for this, but a brake fluid leak may well be the culprit. If you notice fluid under your car in conjunction with suddenly having to hit the brake pedal a lot harder than you're used to, do not hesitate to visit our brake shop. Also, check out our specials page to see if we have any current brake service coupons online.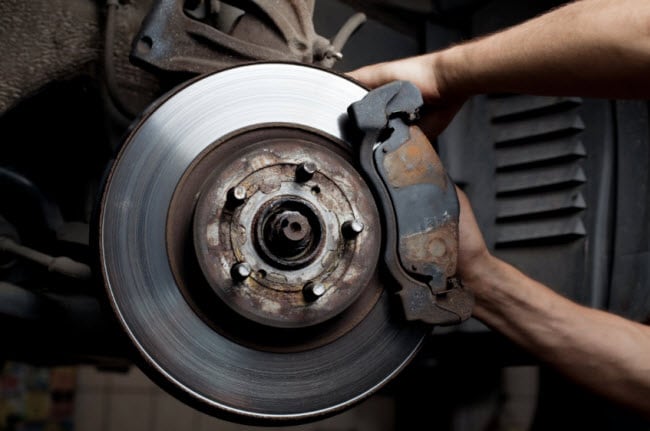 I hear grinding when I brake
There should be absolute silence when engaging a car's braking system, so it's a bad sign if you hear grinding. This sound likely means that your brake pads are out of commission and that metal is now scraping against the rotors. If you ever hear this, bring your car to our Subaru brake service shop immediately, as it's a dangerous state to drive in, as grinding causes heat to build up that leads to fading (i.e., severely reduced braking power) or the brakes can grind down so far that they lock up. We've seen the aftermath of this at our brake shop in Phoenix and can say firsthand that the results are not pretty.
I hear a high-pitched squeal when I brake
This is a common signal associated with thin brake pads, especially front brake pads. A metal piece called the brake wear indicator makes the noise and it's an audible warning sign that your pads are ready to go. When you need new Subaru brake pads, visit our auto maintenance center to have a qualified mechanic handle your brake pad replacement. You may also order OEM Subaru brakes in Phoenix on our website.
Genuine Subaru brake pads vs. aftermarket parts
You may find that some aftermarket brake pads and rotors are cheaper than OEM Subaru Parts; however, keep in mind that you get what you pay for. In tests, many cheap aftermarket brake pads rusted faster and broke down quicker than Subaru front and rear brake pads. The same was true for cheap rotors, which also caused shuttering.
I feel vibration when braking
If alignment isn't the problem, there's a chance that you have warped brake rotors. For a proper diagnosis, have our mechanics take a look.
I feel pulling when I brake
There are a number of possible causes, including issues related to tires, alignment and suspension problems. However, if it's a brake issue, there may be a stuck caliper, uneven rotor wear, a collapsed brake hose or worn-down brake pads.
I'm looking for well-rated brake shops near me
Our shop proudly offers Subaru brake service to vehicle owners across the area.  Camelback Subaru's manufacturer-certified mechanics are thoroughly trained to perform all manner of brake repairs. Whether you need Subaru Outback, Forester or Impreza brake pad replacement in Phoenix, along with any other service for your specific car model, we're here to help. While you're on our site, also make sure you check out our current service specials to see if we have any current brake pad replacement and brake fluid flush coupons.