One of the reasons why you may have decided to buy a Subaru is because of the brand's reputation for long-lasting reliability. As exceptional as the performance capabilities of a Subaru can be, you should plan to bring it into our dealership's auto service center regularly for all needed maintenance work. The most frequent types of services that are usually needed are tire rotations and oil changes, but from time to time, more substantial services are necessary. Transmission maintenance is required less frequently, but it is vital to the condition of your Subaru. A transmission breakdown can result in the vehicle essentially being inoperable, and regular maintenance can dramatically decrease the possibility of experiencing this type of severe vehicle damage. Remember that your Subaru's transmission serves the purpose of managing the power and torque output from the car's engine. This process places a substantial amount of wear and tear on the transmission components through the forces of heat and friction. With periodic service on your transmission from our auto technicians, any signs of wear can be erased.
How Frequently Should Subaru Vehicles Receive Transmission Maintenance?
There are numerous components in a transmission, and they all may require service at some point. The type of service that is most frequently needed involves replacing the transmission fluid and filter. These steps can be completed through a flush service or through a fluid change service, and the suggested frequency is usually around every two to three years or for each 30,000 to 45,000 miles traveled. Because some models have different suggested service schedules, review your owner's manual to find a suggested maintenance schedule customized for your model.
Are Transmission Flushes and Fluid Changes the Same Type of Service?

Before you contact our service department to request transmission service, it makes sense to learn more about the common services that may be needed. Some people use these two terms interchangeably, but they are different services. One reason why they are used interchangeably is because both services involve a replacement of the transmission fluid in the pan and a replacement of the filter. Be aware that the transmission fluid change service ends at this level, but the flush service has an additional level to it. Dirty transmission fluid is present in the pan, but approximately half of the transmission fluid in the vehicle is in other components, such as in the converter and in the cooling lines. A flush clears out all dirty fluid throughout the transmission and replaces it with clean fluid. The cleanliness of this fluid is essential for heat and friction management in the transmission. While the inclination may be to schedule a full transmission flush service, this deeper-level service may not be essential if you are the type of driver who strictly follows all service recommendations from the automaker. A flush is usually necessary only when the fluid is extremely dirty.
Should I Bring My Subaru to the Service Department If the Transmission Is Acting Up?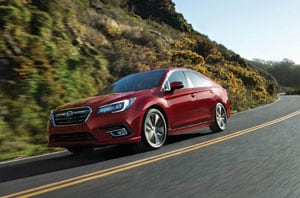 Many Subaru drivers who are dealing with transmission issues in their car will notice mild or minor signs of trouble long before a full breakdown happens. Many issues can be identified and repaired right away, and this can potentially help you to avoid a serious mechanical breakdown. A few of trouble signs to watch out for include the "service engine" light turning on, jerking when the engine shifts gears, leaking transmission fluid or a burnt smell. Call us today at Camelback Subaru for help with all of your Subaru service needs.
Service Hours
Monday

7:00am - 6:00pm

Tuesday

7:00am - 6:00pm

Wednesday

7:00am - 6:00pm

Thursday

7:00am - 6:00pm

Friday

7:00am - 6:00pm

Saturday

8:00am - 4:00pm

Sunday

Closed