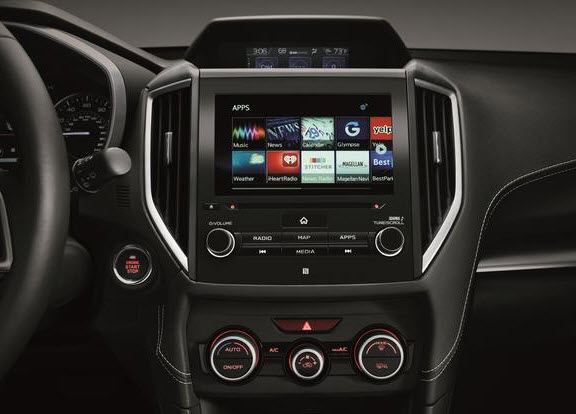 Subaru just announced that the newly redesigned 2017 Impreza now offers eight new apps that are available for immediate use! Once a customer connects their smartphone and enables the STARLINK app, they can manage several services through the Subaru Impreza's multimedia screen.
If you buy or lease a 2017 Subaru Impreza in Phoenix, the following new applications will be at your fingertips:
8 New Apps on the 2017 Subaru Impreza
Yelp – provides crowd-sourced reviews of companies, making it easy to find local shops, restaurants and other types of businesses on the go.


Best Parking – provides parking lot locations and rate comparisons for 12,000 parking facilities, including those in 105 cities and 115 airports across the nation.


Magellan Navi – provides state-of-the-art cloud-based mapping to help drivers navigate through any city in the country.


RightTrack – monitors driving behavior and provides tips on how to be a safer driver.


Eventseeker – offers real-time event data to help users find festivals, nightlife, live music and other types of events in their local area. Users can even share events with friends through the Subaru STARLINK system.


Glympse – location sharing technology that enables users to let friends or family know their current location, destination and estimated arrival time.


Quick Reference Guide – provides a digital version of the quick reference guides that come with every new Subaru model as well as an In-Vehicle Help function.


eBird – provides information about local bird sightings and locations.