Before you make a stop at Big O Tires, check our prices first! For new tires as well as services like alignment, rotation and balancing, visit our tire shop in Phoenix for high-quality work from certified mechanics - all at an affordable price.
Every year, thousands of drivers are involved in preventable accidents caused by tire failure and other tire-related issues. If you want to avoid hydroplaning during monsoon season and safeguard yourself from having a tire blowout, especially when the asphalt is scorching over summer, make sure you pay attention to these signs of tire wear and tear.
When & How to Check Your Car Tires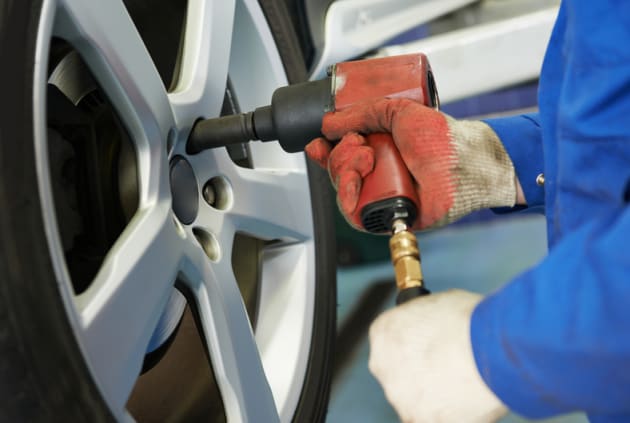 Check your tire tread monthly as well as before going on trips. Once you notice the tread is getting down to the same level as the wear indicators, rubber strips that run perpendicular to the tread, it's time to get your tires changed. If you let your tires continue to wear until they're bald, you are putting yourself in danger of a blowout.
To check tread, you can also use a simple penny. Just place the top of Lincoln's head into the tread and if you can see any part of his hair, it's near the time to get new tires. If his hair is completely exposed, you definitely need to replace your tires right away.
Other Signs That You've Got Tire Problems:
Vibration - could signal that tires/wheels are unbalanced
Pulling to one side - could signal that you need a tire alignment
Bubble/bulge - signals internal damage that's causing air to leak
Cracking - bring to our tire shop in Phoenix to assess if it's cosmetic damage or if the cracks are piercing far into the rubber
How to Make My Tires Last Longer
Check tire pressure on a regular basis and adjust as needed based on your tire psi
Use nitrogen which helps better maintain tire pressure since it's less prone to leak out
Avoid driving on bad roads and evade potholes whenever possible
Don't buy rims that do not properly fit your car
Park under cover as much as possible to shield your tires from sunlight
Don't forget about your tires when you wash your car
Get your tire rotations, alignments and balancing when suggested by your mechanic
If you travel during winter, never use summer tires in snowy or icy areas
Where Can I Get Affordable Tires Near Me?
Camelback Subaru offers tires from a variety of manufacturers and at a price competitive with what you'll find from local tire retailers like Discount Tire and Big O Tires. From Michelin and Bridgestone to Goodyear, Dunlop, BF Goodrich and more, we can assist you whether you're looking for new Subaru tires or tires for another vehicle make.
Additionally, when you need a tire rotation and balance or a tire alignment in Phoenix, our pros will be at your service and you can trust that they'll get the job done right!